Happy new beer
I thought it was a little late in this old Badger's life to become a writer but you folks seemed to like my first foray into the world of blogging (apart from the chef), so here I am for round two.
December 5th, 2017
What's new then? Well the Harrogate Christmas market was even busier than previous years. Bigger queues, slower pushchairs, dearer mulled wine, grumpier Dads. They're talking of moving it to somewhere bigger you know, like not right on our doorstep for much needed after market refreshments you know, like it wouldn't be one of our busiest weekends of the year you know. I'm just going to check what's stashed under my mattress and maybe send a brown envelope their way to convince them it really doesn't need moving.
In other news – this thing has appeared on the wall:
Normally I'm consulted before a new member of the family finds their way into my fine establishment – but no, one minute the wall was bare – next minute this fellow pitches up. I'm thinking of having a word – but he looks like a feisty chap – might just wait till the morning and broach the subject over coffee.
Those clever boys and girls on the bar have made some new cocktails to add to our already extensive list. There's a Citrus Day, a Bakewell Heaven,and a Boozy Badger. They taste DEEEEE-licious – not sure about the names though. Still, that's what happens when you give the office junior a little bit of responsibility. Bless him, it's his first day.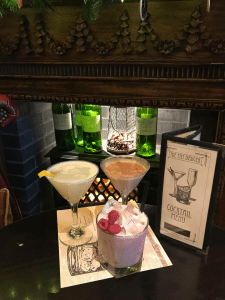 Update on the chef: he's even grumpier than ever. You guys that put all your effort into Turkey with all the trimmings on Christmas day know how much hard work it is  – well spare a thought for poor grumpy Richard; he has to do that pretty much every day for a month. Although I don't think there was any need to refer to my first blog as "just stupid", no need. That's it – I'm going in there to tell him who's boss.
Update on the chef: after a fairly short chat, it came to my attention that he's considerably bigger than I am, and he makes me lunch several days of the week.
I don't think there's any need for you nasty people to call him grumpy. I think he's lovely. I personally won't have a word said against him. He's definitely my favourite, definitely.
Doesn't seem long since the last Auld Lang Syne, champers and kissing other people's wives. The next one CAN'T be less than a month away surely!! Well your best plan for this New Year's Eve is to come down the Badger and let your hair down with  a few tipples and let Clarkey's banging tunes carry you into next year. Buy him a few gins and he might even carry you into room 110. If you want, there's a posh £69 gala dinner beforehand in the Grill – still some tables available (there's your ad Trina – it's all you're getting) otherwise just get some fish and chips and see what happens.
Right, that's me done, I'm off for a drink with Gaby – don't tell Mrs Badger…
Until next time,
Mr Badger X